Beach & Trail Rides
Beach Adventure
Trail Adventure
Surfside Ranch delivers your horses to Border Field State Park allowing you to spend your time on the beach and not traveling by horseback to and from our ranch. Enjoy the cool ocean breeze as you ride along the sandy beach at the water's edge. Scout for dolphins & seals in the nearby waves or scope out the many waterfowl as you travel to the southwestern most point in the continental United States. One and one half hour, and two hour Beach Adventures are available. Ride. Relax. Refresh.
Sunset Beach Adventure
Leave directly from our ranch and begin to take in the picturesque views as your professional guide leads you through the beautiful San Diego County Trail System. You are likely to spot indigenous wildlife hopping along the path or hiding in the native vegetation. Bird enthusiasts will appreciate the large variety of winged wildlife as they stroll along the lush trails. Forget all your worries as you escape into nature and enjoy the mental relaxation horseback riding offers. Surfside Ranch offers hour, one and one half hour, and two hour Trail Ride Adventures. Ride. Relax. Refresh.
Enjoy everything the Beach Adventure has to offer as the sun sets creating a breathtaking backdrop for your Sunset Beach Adventure. Whether you are popping that special question to the love of your life, celebrating an anniversary, or just want to experience the tranquility and beauty a sunset ride offers, we will help make your ride special. Sunset Beach Adventure is a one and one half hour excursion. Ride. Relax. Refresh.
**The beach closes at dark and horses must be off the beach prior to dark. At Surfside Ranch, we deliver your horses to Border Field State Park allowing you to actually be on the beach as the sun goes down.
Your perspective as you explore the trails.
Cool ocean breezes refresh and relax you as enjoy your ride along the water's edge.
Want to wow your significant other? Plan your special occasion on the beach at sunset.
Take in the picturesque trails and enjoy the native vegetation and wildlife.
Trot down the beach as you scout for marine life in the nearby waves.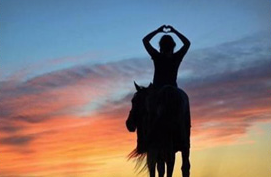 Horses and sunsets. Does it get any better than this? Love!
At this time, we are unable to offer Beach Rides